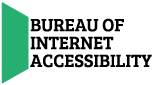 WHY IS WEBSITE ACCESSIBILITY BECOMING SO POPULAR?
The concepts that govern web accessibility have been around for a few decades, but in the past few years accessibility has started to pick up steam in public consciousness. So, why now is web accessibility becoming so popular?
FIRST, WHAT IS WEB ACCESSIBILITY?
To begin to understand why public awareness and interest in accessibility are growing, it's important to know what the term means. Web, website, and digital accessibility are variations in terminology meant to describe the practice of making websites, mobile apps, and other digital platforms and tools usable for people with disabilities, including those who may use assistive technology like screen readers. In order to account for the different ways many people navigate, consume, and contribute to digital information, websites and apps must be built — or fixed — to be accessible. When accepted accessibility guidelines aren't followed, it can be difficult or impossible for large portions of the population to access the products and services available to others.
8 REASONS WEB ACCESSIBILITY IS BECOMING SO POPULAR
EVERYTHING IS GOING DIGITAL
WEB ACCESSIBILITY LAWSUITS ARE ON THE RISE
HOUSEHOLD NAMES ARE IN THE NEWS
MORE DEVELOPERS AND CONTENT CREATORS ARE BECOMING SKILLED IN ACCESSIBILITY BEST PRACTICES
MORE ORGANIZATIONS ARE FORMALIZING AND PUBLICIZING THEIR COMMITMENTS TO ACCESSIBILITY
BRANDS ARE RECOGNIZING THE VALUE ACCESSIBILITY PRESENTS
CONSUMERS ARE DEMANDING WEB ACCESSIBILITY
ASSISTIVE TECHNOLOGY IS BECOMING CHEAPER AND EASIER TO GET — IN SOME CASES
For the full article, visit Bureau of Internet Accessibility, Inc.