A client recently asked how to hide photos and PDF documents in their monthly Newsletter from being indexed by Google and other Search Engines. 
The client was claiming that another website she manages on Weebly alowed her to hide individual blog articles.  Here is the Support Ticket response.
---
Hi Renee,
I just tested the weebly.com website for being able to hide article pages.  What I found was you can click the "Hide this page from search engines." in the SEO Settings for the Blog.  What that does is effect ALL articles in the Bog, not just one article.  The other thing I learned is by doing this weebly is removing the blog pages from the /sitemap.xml file they submit to the search engines.   This in no way hides the page from being crawled and searched by all search engines.  For the page to be truly hidden you need the following script in the "Head Script" section of any page.
noindex, nofollow script is needed:
<meta content='noindex, nofollow' name='robots' />Weebly.com does not allow you to modify the Head Script of any individual page or article.  You can add this script to the "META Keywords" section of the settings for all Blog articles.  This way you can prevent the indexing of all articles, but still not individual articles.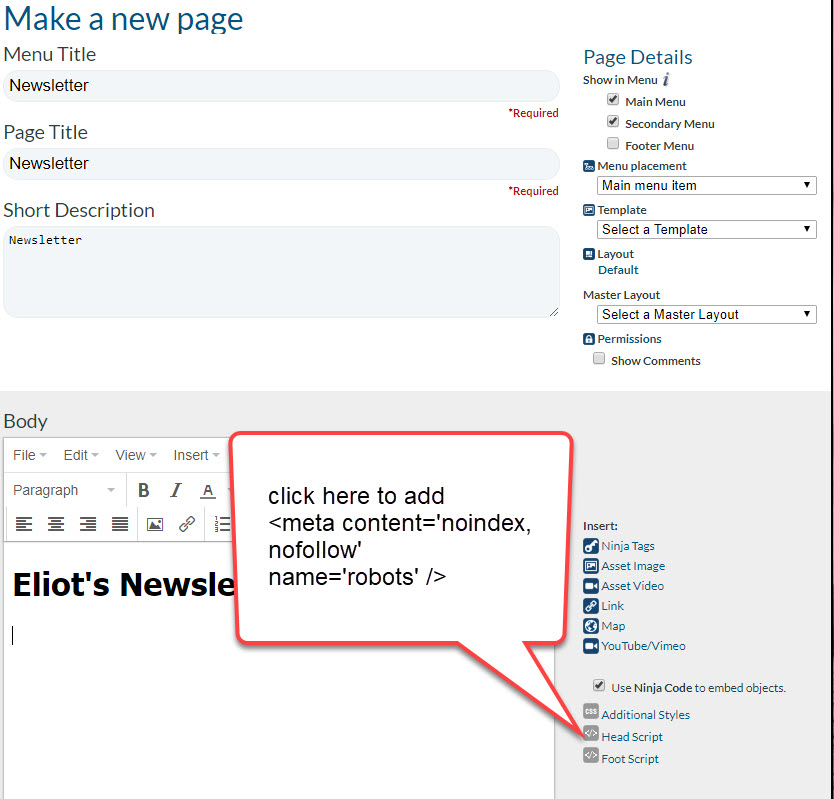 I would recommend you create a "Page", not article post, and enter the nofollow script in the Head Script for that page (see screen capture below).  Here is the New Page URL, https://www.eliotinstitute.org/admin/pages/newThen post all the links to your Newsletters on that individual page.  Since your Newsletters are just links to PDF documents, this should work very well.
Google can take up to 6 months to clear your website pages
You should also know that Google can take up to 6 months to clear your pages and/or PDF documents from their Search Results.  Only Google has control over this.Another option is continue to use the Articles system to post your Newsletters, but add a Nofollow script to the link to your PDF document.  
Here is an example of a nofollow link.
<a href="https://s3.amazonaws.com/siteninja/multitenant/assets/26731/files/original/2018_Fall_-_Newsletter.pdf" rel="nofollow noopener" target="_blank">Eliot's Fall 2018 Newsletter</a>I just updated your latest Newsletter link with this update, https://www.eliotinstitute.org/article/13283-eliot-s-fall-2018-newsletterHope that helps,Michaelreferences:https://developers.google.com/web/tools/lighthouse/audits/noopener